The Blakely Burl Tree Project:
From The Ground Up

by Terry Martin
GETTING TO KNOW BLAKELY

The next day the sun rises in a clear-washed sky and the town of Blakely is bathed in glorious fall sunlight. It is Sunday and as the Burl Tree site is directly opposite the First Baptist Church, Mark decides it would be respectful to take a day of rest from using the heavy machinery.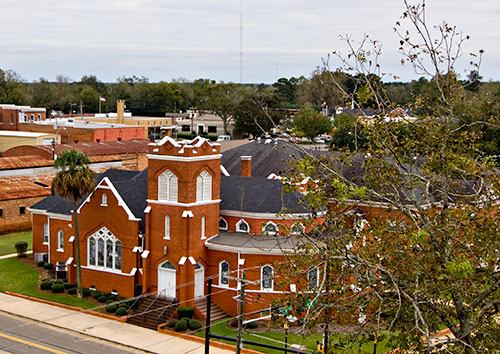 First Baptist Church, Blakely, Georgia Photo: Mark Lindquist

Mark, Gary and John decide to work at reorganizing equipment and setting up the computer systems for processing images in the mobile home. Ken and Greg are invited to tour Blakely in the Early County Project truck, called Dream Big. I'm used to seeing big trucks in the US—huge-wheels, rumbling engines and macho exhausts—but when I see this truck, my jaw drops. The monster machine has been funded by the Early County Project as a rolling billboard to help publicize what they are trying to achieve. It is used at local football games, homecomings and other events to fly the Early County banner, and a more attention-getting vehicle is hard to imagine. Catherine, in a rare blunt moment, tells me she has named it the Big Ass Truck. I ask Charles where he got the idea for this publicity machine. "Being a business type," he says, "I suspected it would take something more than a web site and brochures to reach the 14,000 folks in Early County, and even more outside the County. I figured if the Dream Big truck couldn't draw attention nothing would!"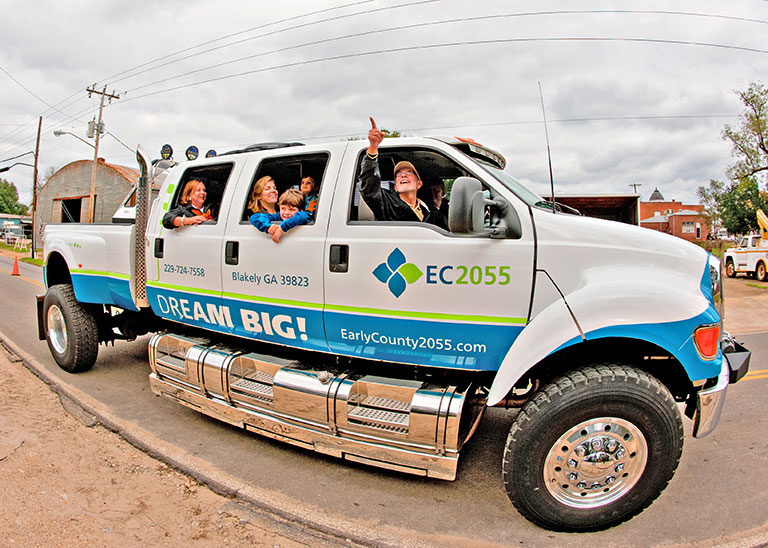 The Rice family in "Dream Big" Photo: John McFadden

To my delight, Charles invites me to spend the day with his family. It is a special opportunity to find out more about the opportunities they are offering to the local community. After showing me a number of properties that the Early County Project has purchased, we drive through Blakely Commons, a new housing development with sixty brand-new homes. As we cruise the tidy streets Catherine tells me how much it means to them to see this project completed: "There were so many homes that had fallen into such disrepair here," she says. "This is so beautiful and people are taking great pride in their new homes. We hope people will take that pride into the schools and their futures." Charles has donated land to the small community for use as shared parkland and playgrounds, and as he explains why he feels it is so important to provide a good environment for children to grow up in, I can hear the echoes of his own happy childhood in Blakely. He wants to know that children can still have a childhood to remember here.

Next we visit the J.B. Rice Youth Center that the Charles and Catherine B. Rice Foundation gave to the First Methodist Church of Blakely in 2002 in memory of his father who had passed away in 1981. When Charles' mother passed away in 2004, Charles wanted to do something in memory of his mother and that idea planted the seed of the Early County Project.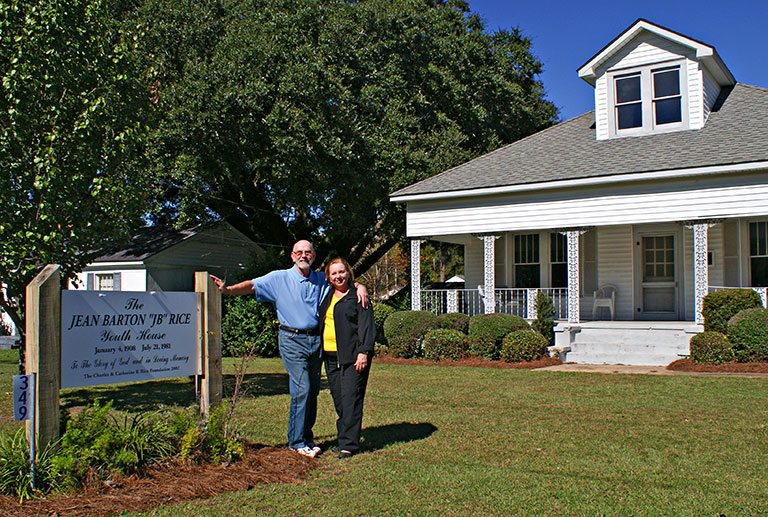 Charles and Catherine Rice in front of the JB Rice Youth House, in Blakely, Georgia
Photo: Terry Martin

It is a short drive to Kolomoki Mounds, once the center of a thriving and significant native American settlement. It's now a state historic park covering some three hundred acres. Scattered around the site are seven earth mounds that were built between 1000 and 1700 years ago. As we walk through the woods beside the biggest mound Charles describes how they used to ride their bicycles out there when they were children. "We found Indian arrowheads every time we came here," he says. He describes how they did what all country boys did in those days—they swam, fished, rode their bikes and played in the woods. The family spends a happy few hours playing on the vast plaza that spreads from the foot of the mound. It is an enormous area and when we climb the mound for a family photograph I start to get an idea of how much earth was moved to create this fragile structure. Later I learn at the small onsite museum that it must have taken over two million basket loads of earth to build the mound.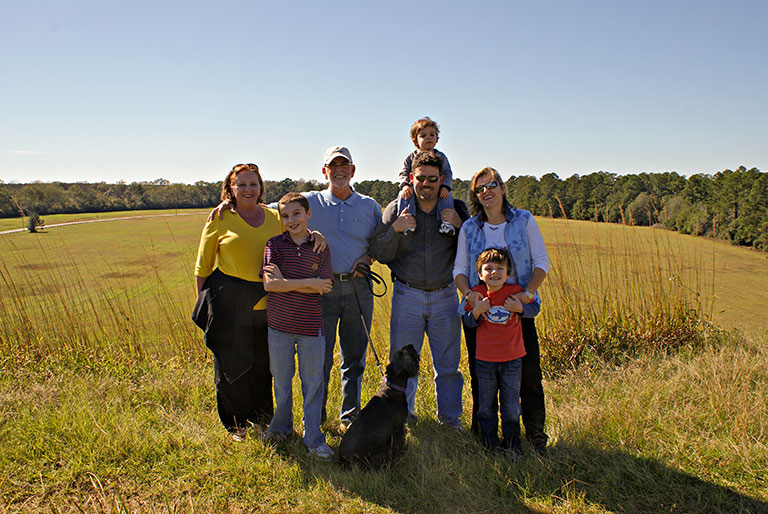 Rice Family at Kolomoki Mounds, Blakely, GA
(Left to right) Catherine B. Rice, Stephen Wall, Charles B. Rice, Barton Rice & Son John Patrick on his shoulders, Andrea Rice and Nicholas Rice in front, Barton's dog Stella (Standard Schnauzer age 5)
Photo: Terry Martin

When we are walking across the grass Charles tells me how he used to try to ride his 1945 Flathead Harley up the temple mound when he was 13 years old. "I'd start hundreds of yards away over there at that smaller mound and accelerate to top speed, probably around 70mph," he bends his knees and sweeps his hand to show the track he took across the plaza, "but I could never get all the way to the top. Half way up it'd just flip over and we'd slide all the way back to the bottom. I must have been about 90 pounds and that bike would have been around 350 pounds." He pauses, looking slightly guilty. "Of course we didn't know much about the history of the mounds back then." Charles' regret for his youthful disregard of the special nature of this site is obviously sincere, but I can see the memory of flying across the plaza and thundering up the mound is still fresh in his mind.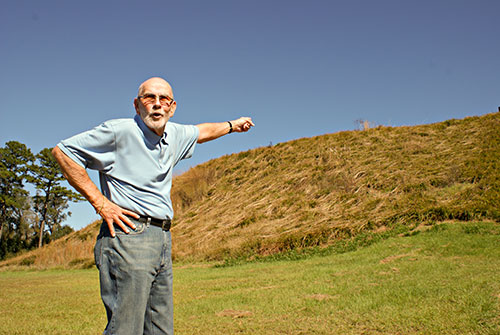 Charles Rice in front of Kolomoki Mound, Blakely, GA
Photo: Terry Martin

As we walk back to the car Charles tells me about his bullet car, a racer made from an aircraft fuel drop tank that his father built for him, and the risky adventures he got up to. "I wasn't afraid of anything," he proudly tells me. "I drove that thing with no licence, no tag and no lights, 100 miles from home and back!"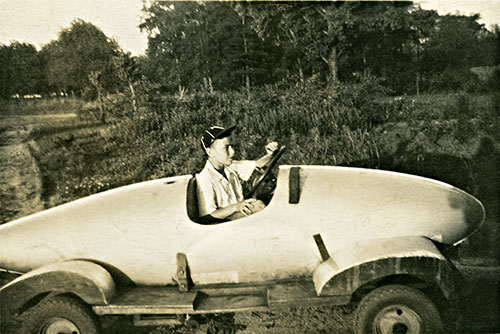 Charles Rice in his "Bullet Car" built during the 1950's by his father

Catherine laughs at this: "He's a big boy with toys," she says. "Everything is speed, speed for Charles and I think it started with that bullet car." Later I learn that Charles now rides a Ducati 996RS motorcycle with a top speed of more than 210mph!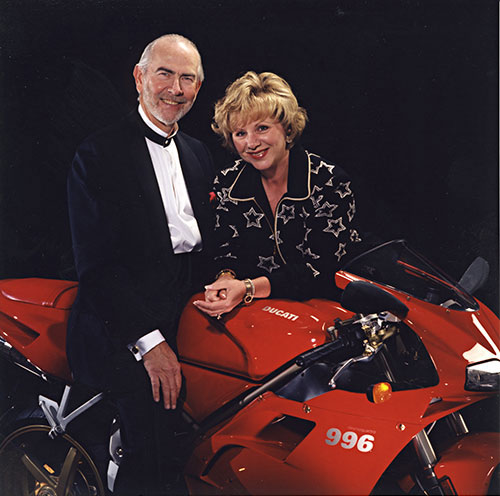 Charles and Catherine Rice with Ducati Motorcyle
Photo: John Haigwood, Haigwood Studios, Roswell , GA

All those years ago the 13-year-old daredevil risked his life thundering across the plaza at Kolomoki Mounds, convinced he was invincible. Remarkably, sixty years later, Charles is still getting his speed kicks.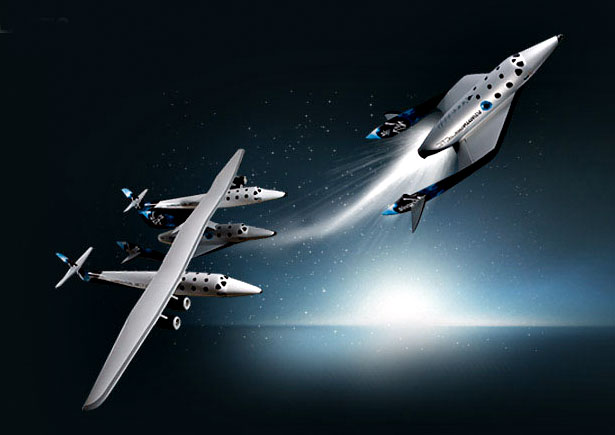 Charles Rice has seat # 286 on the Virgin Galactic space flight. Photo: Virgin Galactic

That evening we all gather at the sweet Georgia Brown restaurant—more wonderful Southern cooking. One of the most charming customs I've seen here is the special way people have of saying grace before meals. Instead of formal prayer, it is more of a personal chat with God to offer thanks. It's also a chance to do some pretty good PR with the people listening, and once more Stanley lets us know how much everyone appreciates all the good work that is being done. It's a peaceful moment of reflection and I use it to think about how these personal moments are gone from most family tables and what a loss that is.

At Georgia Brown Restaurant: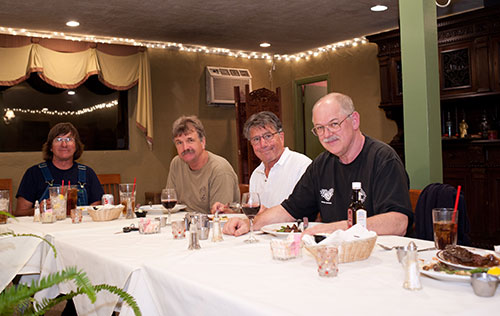 (Left to right) Steve Cross, Gary Stevens, Greg Andracke, Terry Martin
Photo: John McFadden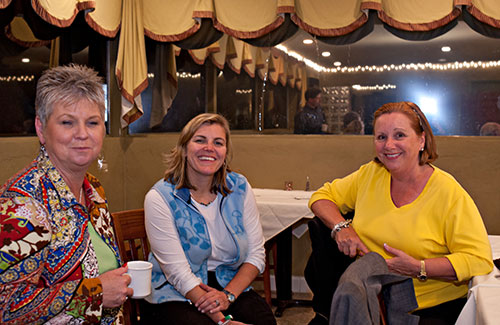 (Left to right) Georgina B. Freeman (administrative assistant, EC 2055),
Andrea Rice, Catherine B. Rice
Photo: John McFadden

During the meal I catch up with Ken and Greg and they tell me about their day in the Dream Big Truck. "Wow!" says Ken. "Stanley drove us everywhere. What an experience! The door was so high I didn't know how I'd get into it, but when it opened, three chrome-plated steps popped out. When I hopped into the plush leather seat the FOX business news was playing on a wide-screen TV smack in the middle of the dashboard. Greg and I were the only ones aboard and wherever we went heads turned, and smiles and waves greeted us. If anyone looked with a blank expression, Stanley hit the customized Dream Big horn and that got a smile, especially from the kids. I felt like I was riding shotgun."



Photo: Mark Lindquist

Later I learned that the six-door Dream Big weighs 26,000 lbs and is 28' long and 9.5' high. It has an onboard communications and entertainment system that includes every imaginable electronic device and it can put on a dazzling sound and light show of its own. Any concerns I felt were calmed when I learned that the Dream Big is much more environmentally friendly than it appears because it has been converted into a Hydrogen Hybrid with a closed hydrogen-producing system. There's no doubt it does the job, as Brad Hughes, who drives Dream Big, proudly tells me, "Every time I stop and people start snapping photos, it's an opportunity to tell people why I love the place where I live and what's being done to improve our community."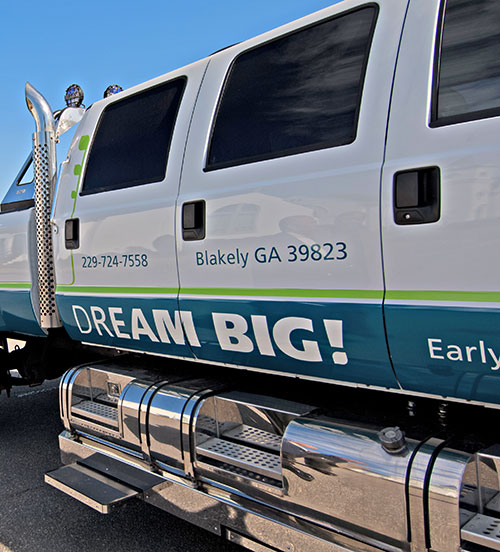 The DREAM BIG Truck Photo: Mark Lindquist

After the meal when we are walking to the parking lot, Charles looks back to where Stanley is thanking the restaurant owner. "You know,' Charles says, with affection written all over his face, "without Stanley this project would never have gotten off the ground. I love Stanley Houston," he says. "It's hard not to." Amen to that.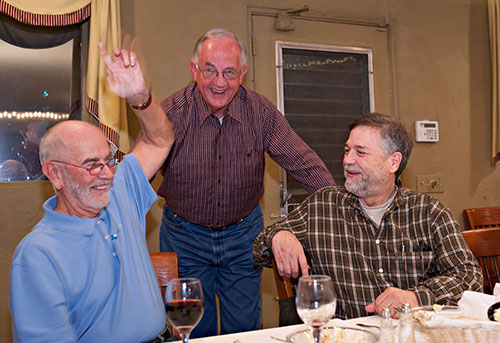 Charles Rice (left), Stanley Houston, Mark Lindquist (right)
Photo: John McFadden

Mark joins us and tells us about their much quieter day. "Gary and I walked around the tree a lot. It was a relaxed time for just the two of us to do some critical planning. I'm pretty experienced with aerial burls and Gary's had a lot of experience working with root burls and getting them out of the ground unharmed. We have to be careful not to pollute the stream when we move the tree and he knows how to do it without a lot of ecological impact." I'm starting to think that there never was a tree so carefully discussed and examined.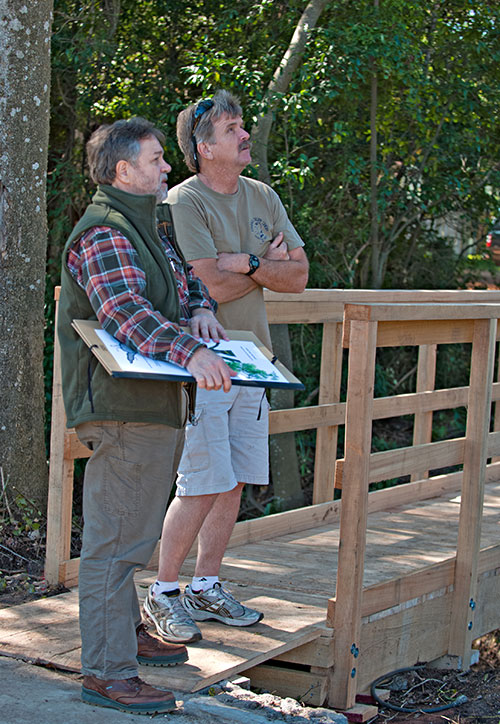 Mark Lindquist (left) and Gary Stevens, discussing the tree on Sunday
Photo: John McFadden

Mark also tells us that there was a constant stream of visitors to the site, all curious about what is going on. "I talked to them all about it. It's important to let people know what we're doing."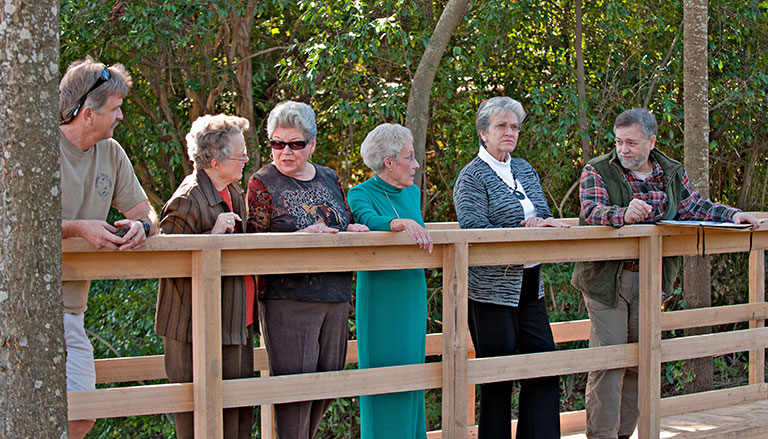 Gary Stevens (left) and Mark Lindquist (right) entertaining visitors to the Blakely Burl Tree site on Sunday afternoon. Photo: John McFadden