The Blakely Burl Tree Project:
From The Ground Up

by Terry Martin
UNDERSTANDING THE WOOD

When we arrive at the mill we find Steve under the bed of the Super Ax, using jacks to level the whole machine. He drags himself tiredly out from underneath to greet us and we learn that he has been working much of the night. "I wasn't happy with the way it was tracking," he says. "I knew I could do better." The concern on his face is obvious. Steve is on show in a way that he never experiences in his regular life and he wants to do his best for the Project.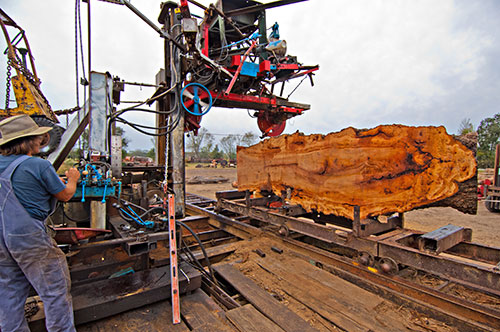 Steve Cross with the Blakely Burl Tree on his Super Ax sawmill.
Photo: Mark Lindquist

The sawn wood is starting to mount up. One of the most important things that Mark wants to find out is how the wood will behave as it dries. There are woods that dry uniformly with little or no warping, while others twist and distort to the extent that they are unusable. Some timbers are prone to cracking, which is why Steve has treated the ends of the logs with wax to slow the loss of moisture through the cut sections. Pecan wood can be used for quality cabinet making and I saw some excellent pieces that Chris has made when we visited him, but because nobody has seen a pecan burl before, it is not clear how this wood will behave.

Mark and Steve have agreed to cut some very thin sections to see if the wood is suitable for veneer. Veneer, or thinly sliced sheets of wood, can be glued to the surface of less attractive timber, making a valuable resource go further. It can be used to create impressive tables, wall paneling, decorative inlay and a whole range of other uses.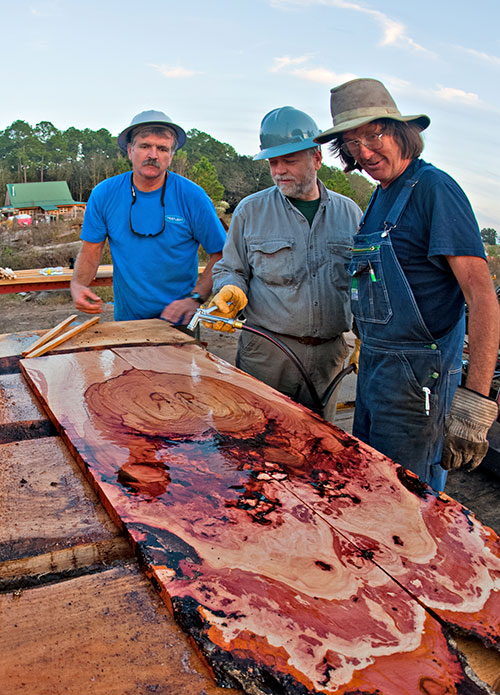 Gary Stevens (left), Mark Lindquist and Steve Cross (right) studying book matched cut of log section, beginning to understand the burl in the Blakely Burl Tree wood.
Photo: John McFadden

Mark chooses a section of log to cut for veneer and as the thin flexible sheets peel away from the log we can see that Steve's night-time work has been worthwhile. With such narrow cuts, even the slightest deviation will render the wood useless, but Steve grins broadly as the log runs straight and true.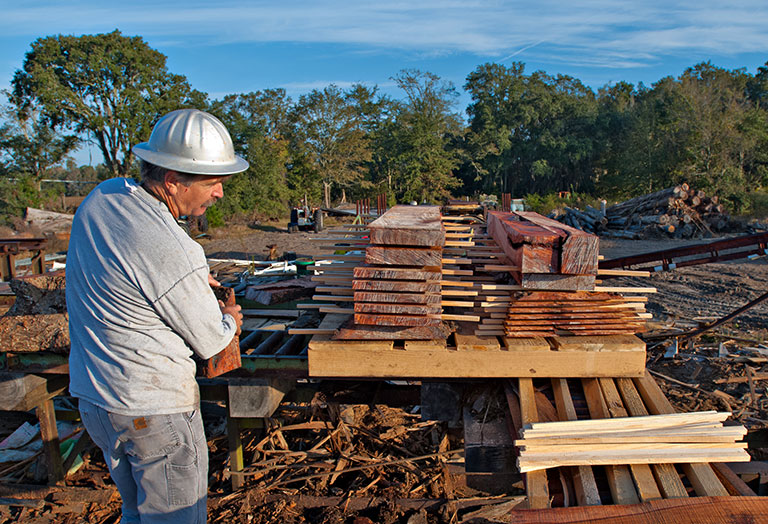 Gary Stevens with veneer cuts and boards from the burl tree.
Photo: John McFadden

We all pitch in and stack the veneer carefully, separated by stickers to let the air circulate and dry the wood uniformly. Almost immediately, however, the veneer starts to distort. Maybe it is not best suited to thin cutting, so Mark decides to leave these pieces for now and he will decide later what they can be used for. After consulting with Gary and Steve, Mark decides it's best to cut thicker sections that will have enough structural strength to allow the wood to dry without moving too much. It's all part of the learning curve with this unique tree.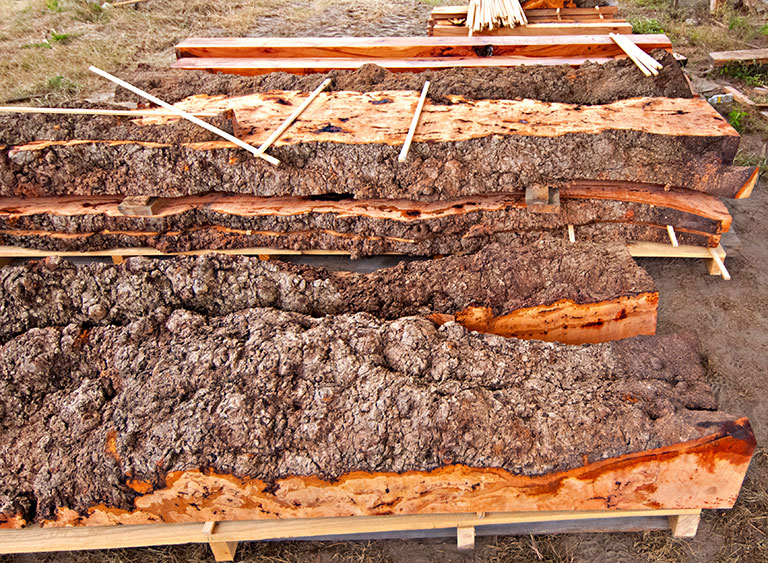 Large flitch cuts from the Blakely Burl Tree atop custom built pallets.
Photo: Mark Lindquist

So far the cut wood falls into several categories, including the thin veneer sections, sections up to a few inches in thickness, and thick slabs that resemble heavy bench tops. All of these are complete "slices" of the log and bark has been retained on both sides of each piece. Mark wants the art that is made to reflect the natural qualities of the tree as much as possible and this bark can be retained as a reference to what was the outside of the tree.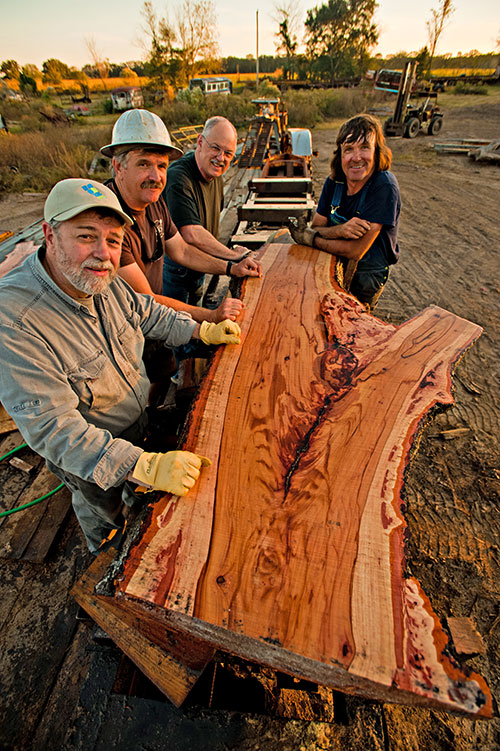 At the sawmill, (left) Mark Lindquist, Gary Stevens, Terry Martin, Steve Cross
Photo: John McFadden

Mark has also decided to cut large blocks from key sections of the tree, such as the crotch areas. This is where the most interesting grain occurs and these pieces are going to be suitable for sculptural forms. The smaller branches have been left largely intact as they can later be either milled, or cut into smaller blocks for carving or turning. The root sections remain as convoluted masses of twisting wood, waiting for the right people to create one-of-a-kind works from them.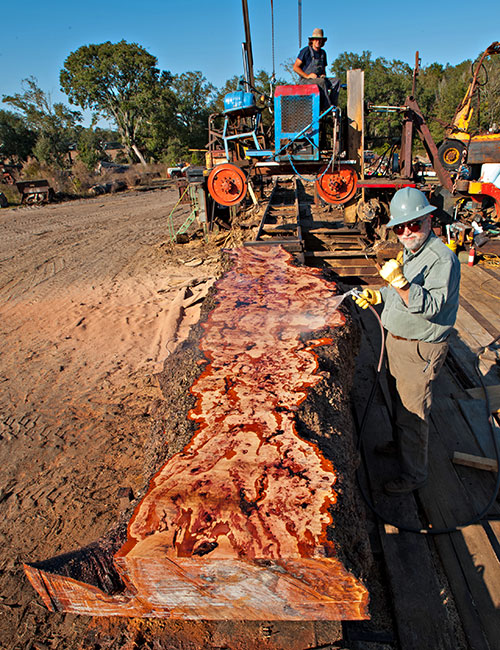 Mark Lindquist hoses down a large flitch section of the Blakely Burl Tree.
Photo: John McFadden

All of this is why Mark and Gary confer so much about every cut. There is an old adage in woodwork, "measure twice, cut once," meaning that you can't put it back once it is cut, so you had better be sure. While I watch these two burl masters, I decide the rule here is "discuss twenty times, start to cut, change your mind and discuss it twenty more times." There are no other Blakely Burl Trees and any mistake will mean the loss of irreplaceable material.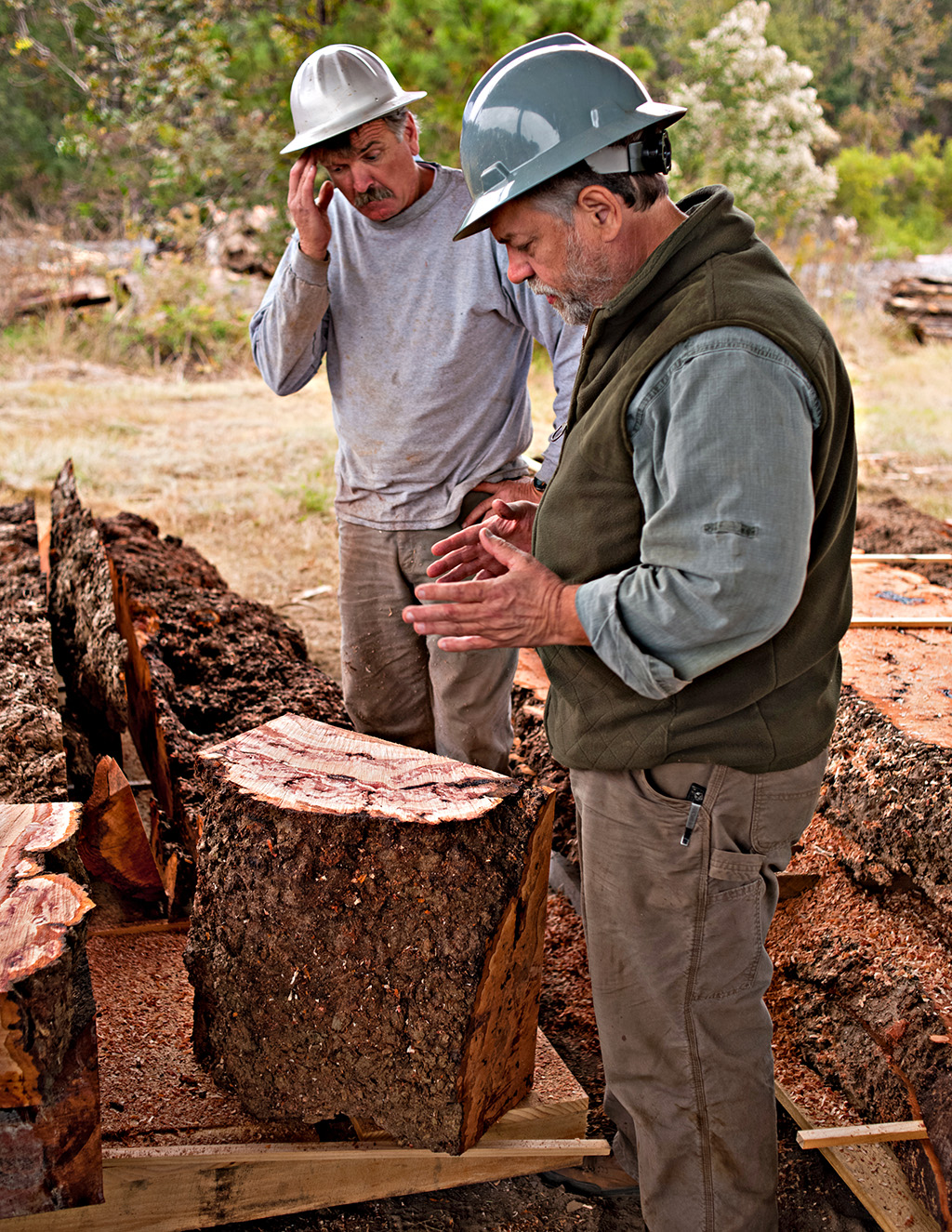 Mark Lindquist (right) and Gary Stevens discuss a thick section to be used for sculpture. The two will collaborate on a piece for the Blakely Burl Tree Museum.
Photo: John McFadden